ETERNAL VESSEL
HANDMADE BY KITTY HOLLAND
Designed to be used time after time, our Eternal Vessel is handmade in Toronto— its clean aesthetic is made to last and fit well in any home. 

Thrown on the wheel by Katherine Holland of Sweet Kitty Goods in Toronto, Canada. Each ceramic vessel is one of a kind with its unique glaze variations.

Perfectly designed to hold the 10oz of wax included in our Clean Candle Refill Kits.
PAIR WITH
PALO SANTO + SAGE
$26
Material: Ceramic
Color: Oatmeal - soft speckled white
Size: 3" x 4"
Use with any of our Everly Clean Candle Refill kits.
• Handmade in Canada by local artisan.
• 1% of this item's sales go towards 1% for the planet to fight climate change.
The artist behind the Eternal Vessel
Kitty Holland
Katherine (Kitty Holland) is a Toronto based ceramic artist. You can find her behind a camera in a pool of light somewhere, covered in clay. Likely surrounded by cats and cake, and blasting the Mary Poppins soundtrack.
Learn More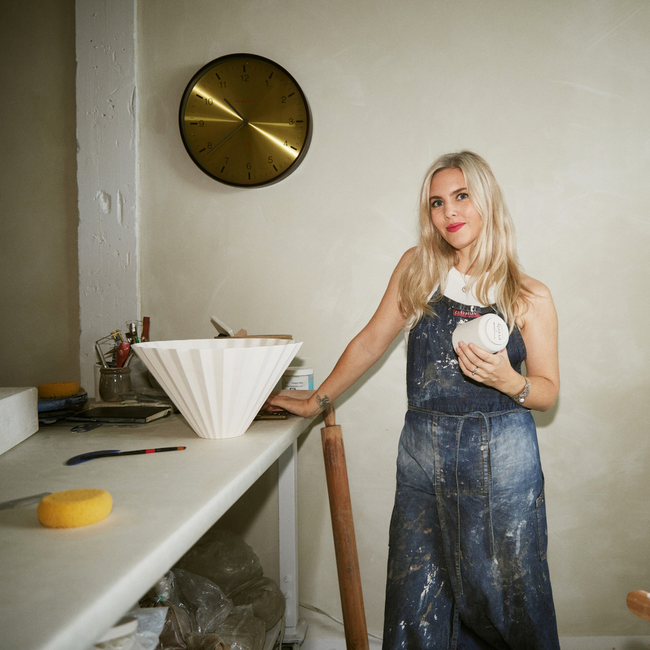 Earth-Approved Reviews
So so so easy!
"I bought these for my girlfriend because she would complain about having to throw out her candle jars after they were done. She loved the simple process."
Dominick C.
Love this idea!
"Love this idea! I'm a huge candle fan but hated throwing out all my empty candle jars. Now I get to upcycle them! So far I'm very impressed with Everly"
Lauryn H.
It smells AMAZING!
"I've been looking for a clean burning candle ever since I became a mom. I love that Everly is not only NON-TOXIC (still smells great) but waste-free."
Aaliyah G.
MADE WITH LOVE IN CANADA
LATINX & WOMAN-OWNED
1% OF SALES DONATED TO ENVIRONMENTAL CAUSES